TDW #050: The "Just One More Month" Myth
Issue At-A-Glance:
Quote: you will be
Tweet: fun + money
Thought: one more month
Surprise: AI everything
Read Time: 4 minutes
---
Different Quote
Well, I don't know if they've heard about this fellow who was going through the cemetery reading all the inscriptions, you know, that's where you find the perfect people, just read the inscriptions. You'll find they're all perfect. One fellow came to one that said, 'As you are now, so once was I. As I am now, you are sure to be. So may I say as here I lie, prepare yourself to follow me.' And somebody had scratched under that, 'To follow you I'm not content until I know which way you went.

via John Wooden

---
Different Tweet

The most fulfilling money on the planet is made when we enjoy the process by which we make it.
Yes, you can get rich doing something you hate—or even tolerate.
People do it all the time.
But thankfully, it's not a binary choice: Make Money OR Enjoy Work.
It's a both/and.
Finding the intersection of personal enjoyment and marketplace value is definitely the more difficult path.
But it's worth it.
For more thoughts like this, follow me on Twitter here >>
---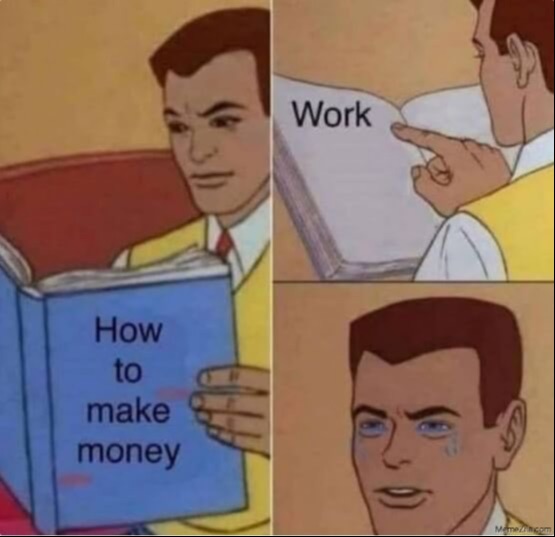 Different Thought
The "Just One More Month" Myth
If you're a true entrepreneur, you're not made to do the work.
You're the visionary.
And it's impossible to be both the visionary and the tactician—they work against each other when one person is trying to fill both roles.
In fact, if you're doing 50% or more of the fulfillment work in your business, you're in a dangerous place...
...and if you don't course correct, one of three things will happen (I've seen this a million times):
1.) You fall for the "just one more month" myth.
You tell yourself to keep pushing, keep grinding, keep pounding for just a little bit longer...and nothing ever changes.
Next year, you'll still be getting up every Monday morning with a pit in your stomach, dreading client emails, endless deadline cycles, and constant "technician" work.
No amount of time management hacks are gonna fix this issue. Unless you simplify your offer and rebuild it for scale, you'll always be stuck.
2.) You fall into "desperate delegation" mode.
You reach the point of burnout and throw together a team, in desperation, so that you can GET OUT of fulfillment mode.
The only problem?
You haven't built the foundation. You don't have fulfillment processes, onboarding automation, support SOPs, troubleshooting sequences, culture guidelines, or communication pipelines set up.
So, your default team culture is chaos, and your clients take the hit. Big time.
(I know someone who fell into this trap. Nine months later, they've fired their entire team, and they're building their business and reputation from scratch, all over again.)
3.) You fall into a reactivity pattern.
You're so DONE with fulfillment work and technician tasks that you start to make rash decisions. You kill offers, fire clients, and launch random new products.
You say things like:
"I'm never taking on another done-for-you client again."
"I want to quit."
"I hate my business."
"This isn't worth it anymore."
The entrepreneurs that reach this stage almost always end up burning their business to the ground. They're just too exhausted to keep going, and they no longer have the bandwidth for profit-focused rebuilding, intentional restructuring, or team development.
…
I'm guessing many of you fit the psychographics of a "true entrepreneur"—you're strategic, creative, impulsive, self-directed, growth-obsessed, innovative, and idea-fueled.
I'm also guessing that many of you spend most of your days on technician-level work: responding to emails, working on client projects, meeting deadlines, tweaking your marketing funnel, messaging prospects, or managing team members.
And, honestly, for just a moment—I hope that you FEEL the pain of that misalignment gap.
Because if you don't feel it (if you "suck it up" for so long that you go numb), nothing will ever change for you.
You'll live out your days as a "good service provider" and that will be all.
Which, to me is a tragedy.
Especially when you could be:
dreaming up the next big innovation in your field
writing a book that rocks your industry norms
scaling your business to serve 10x the clients (and impact 100x more lives)
leveraging your creative energy to change the world
challenging accepted mediocrity in your niche
spending more time with your family
spending more time feeling HAPPY
If that resonates with you…
...what are you going to do about it?
How are you going to make short-term HARD decisions in order to free up your time, your energy, and your creativity for the long haul?
How are you going to release your technician identity so you can step into your true calling as a leader, and entrepreneur, and a visionary?
How are you going to rebuild your business so that it doesn't rely on your checking your email every 2 hours?
Hit reply and let me know.
I'd love to give you some from-the-trenches advice.
Because I've been the technician, and I've fallen into all the traps before.
But I've also gotten through to the other side.
And if you'd like one-on-one support to make BIG changes in your business, before the end of 2023, we should talk.
---
Different Surprise
AI EVERYTHING.
If you do any sort of Facebook/Google/Instagram advertising, you owe it to yourself to let AI help you.
I found this ad platform that builds a metric sh*t ton of ad variations for you based on your campaign objectives.
Back in the old days, we used to have to do this by hand. It was a huge pain in the ass. And it took forever.
Now you can do it in seconds. (And I'm not getting paid to tell you about this, either!)
---
When you're ready, here are the two main ways I can help you:
1.) Build your Content Machine and watch as your content predictably pulls in dream clients who already know, like, and trust you. (Join 100+ members here.)
2.) This is the program where I help people build their own Content Machine that wins more clients with less work. Check out the 50+ reviews here.
Join the 7000+ creators & entrepreneurs growing their brands + income.
Contrast, Don't Comply. I'll Teach You the Wisdom of Doing Different & the Folly of Following the Status Quo.
We hate SPAM. We will never sell your information, for any reason.