The Spirit-Led Business Plan
Discover God's waiting plan of abundance for your business (without sacrificing your soul or sounding like a weirdo)
SIGN UP NOW
What is a Spirit-Led Business Plan? Similar to a regular business plan, it provides direction and clarity towards achieving business goals. But its power comes from integrating your Christian faith at every step—giving life to you and your business.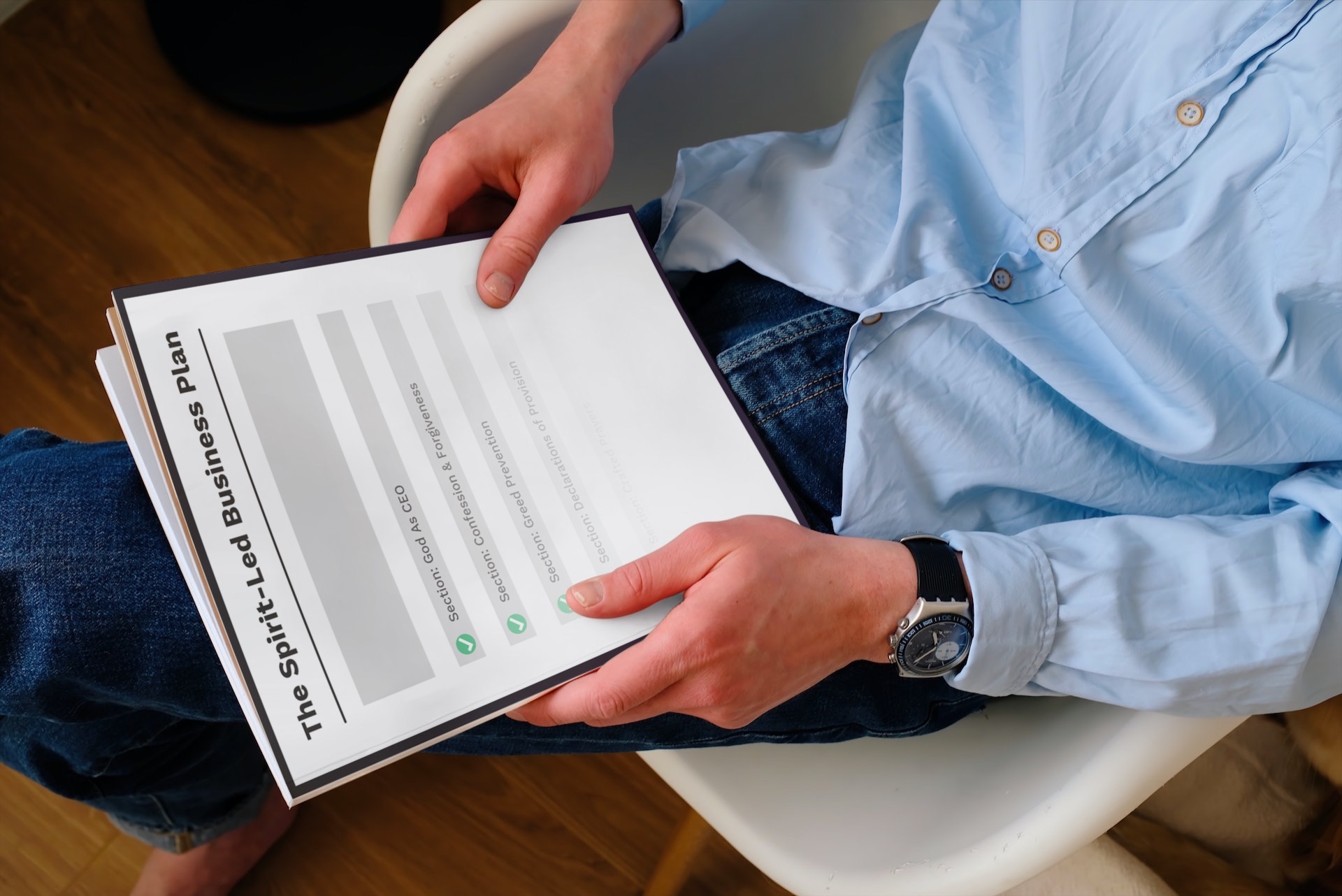 ACTION
With just a few hours, you can have your Spirit-Led Business Plan created and ready to go. Since you get all the content at once, it's super easy to stay in action mode and impossible to get overwhelmed.
ACCESS
Three cheers for instant access! You'll get access to everything immediately after enrollment. Because there are no live sessions to worry about missing, you can go through everything at your own pace and on your own time.
---
WITH THE SPIRIT-LED BUSINESS PLAN
01.
You'll be be clear on God's plan for your business so you can keep your faith and walk your path with integrity and conviction.
02.
You'll attract more clients who share your values and support your vision—without turning off current clients.
03.
You'll accurately calculate your financial needs and learn how to utilize profits to support your community.
04.
You'll learn why you have a moral obligation to generate as much profit as humanly possible (with a Biblical foundation to back it up).
05.
You can align your business with your Christian beliefs, allowing you to live out your faith without coming across as a "weirdo Christian."
06.
Use our templates, crafted prayers, and declarations for provision and abundance to integrate your business and faith.
You have a moral obligation to fulfill the full potential of God's calling in your life and business. Here's how we're going to make sure that happens:
A tested start-to-finish Biblically-based process (we've done all the trial and error for you)

Action steps that involve actual work (not just watching videos and making plans—you'll actually put your "hand to the plow" and build the business of your dreams)

Templates for every step, so you don't have to do anything from scratch (we're talking crafted prayers, declarations, vision casting, strategy...it's all there)

Examples, checklists, tutorials, and Scriptural support for each step so you never get stuck or lost

Extra momentum & encouragement from watching God move in your business in a brand new way
Most important: you'll have a plan you can use every single day to integrate your faith and business in a natural way (without feeling like one of those "weirdo" Christians)!
We do not bicker about theology. Do not want to hear it. We've kept this resource as politically and denominationally neutral as possible. Do not sign-up if you enjoy picking theological fights, arguing about the merits of certain translations, or debating how many angels can fit on the head of pin. Period.
A Letter From Me To You...
When I say "integrating your faith maximizes your profit," I do not mean it metaphorically.
It is not some altruistic, spiritual-sounding statement meant for a pithy quote image on Instagram.
The religious people like to nitpick here and quote Bible verses and generally stomp off in a huff.
Fine… Bye Felicia!
But I have a sense you know exactly what I mean, even if you can't articulate it.
It has less to do with money and dollars and cents… And more to do with becoming the person God created you to be—and building an amazing business in the process.
This is the main reason I created the Spirit-Led Business Plan.
With it, you'll discover how to confidently pray for God's increase, favor, and abundance in your business without feeling like a sleazy "prosperity Gospel" preacher.
Without it, you'll always wonder if you're truly aligned with God's best for your business.
It won't be for everyone... but it might be just right for you.
Here's to your success,
JUSTIN
How is this resource delivered? What's all included?
The Spirit-Led Business Plan is delivered via an editable Notion template + over-the-shoulder course walkthrough videos. The document is created in a such a way where you'll immediately have everything you need to create your plan. But you can also add to, edit, change, and morph your business plan over time. (If you don't have Notion, don't worry—it's free. Plus we'll include a PDF version for you as well.)
Do I get instant access to everything when I sign up?
Yes! Everything gets delivered the moment you enroll. You'll get an email on with instructions on how to access the resources.
What's your theological background?
As the creator of the Spirit-Led Business Plan, I must admit I'm painfully Lutheran. I was a pastor at the largest Lutheran church in the United States. I graduated with my Master of Divinity from Bethel Seminary in the Twin Cities. Was even on the fast-track to ordination.
Why did you leave your position on staff?
God had other plans and called me into the business arena. Since then, I've built and sold multiple companies, consulted with organizations big and small on digital marketing, and spoken on the stages all over the world.
Will the Spirit-Led Business Plan help me get funding?
Probably not. This document is less numbers, facts, and figures and more Father, Son, and Holy Spirit. The goal is to invite God into every nook and cranny of your business on a daily basis. The Spirit-Led Business Plan helps you align your business with God's unique plan for your life—fill your wallet and fill your soul.
Will the Spirit-Led Business Plan help me start a new business?
This document will work best if your business is already generating revenue. That said, we've included some additional resources if you're looking to start a new business.
I have one more question! How can I contact you?
We'd love to hear from you! Reach us via email, at [email protected]. We reply to emails from 9am - 4pm ET, Mondays through Thursdays.